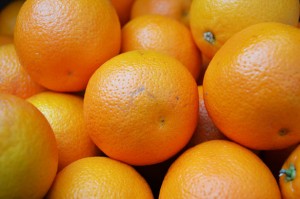 Out of the blue, I bring my friend an orange. Grab it from the fruit bowl on the way out the door. We meet for a chat, and as we part I tell her, "Oh, I have something for you." She's just moved, and her new home is in boxes. Life is busy. Her eyes light up when it hand her the piece of fruit, "Just yesterday, I wanted an orange, and I didn't know how I'd get to the store." How did I know? Did I?
Continuing my orange jag, one Wednesday, I pack three in my lunch bag; one for me, and one for each kid. But that's where the story twists. While one kid leaves for class, the other stays in the car to study. Hearing a muffled mutter, I turn to find a man near my door.
Covered in hair, many layers of clothes, and packs, and dirt-crusted nails, he is holding an empty cup. I sense he wants money. My purse is in the trunk, and I'm reluctant to locate it. Trying again to see if I can afford this homeless man any dignity, I ask my question, "How can I help?"
But he's too far gone and cannot articulate, so I assist, "Would you like a piece of fruit?"
He cannot say. Choosing for him, I hand him my orange.
Later I tell my son a wish. "What if I could bring him a sandwich every day, and leave it at the edge of the parking lot. He could come to trust that lunch would await him. Maybe that could change his life somehow."
"That would be cool mom, but you better be careful he doesn't tell his friends about it," he cautions. I smile thinking about a line of homeless folks gathering to capture my row of sidewalk sandwiches.
But what if each of us who can brings an orange, or a box of crackers, or an extra sandwich to share? When I hand that piece of fruit to that man, I wonder if it shines a very small light in his life. I know that his crusted dirty hand looked a bit brighter holding that sweet piece of orange fruit.
Like the orange I gave my friend, I don't know why I carried them with me that day. Not sure it matters, more important is that I had something to give away and I did.
Anything you need to bring along today? Anything you need to share?