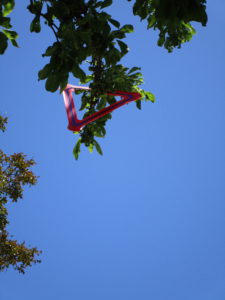 One sunny Sunday, a mom, dad, two teen boys, and a boomerang went to the park. It was hot and shade was small. The middle of the field baked, so, seeking shadows the family pushed their throwing game to the edge of the grass near a tall wide-branched tree. Beneath that tree picnicked a small boy, his dad, and pregnant mom.
Boomerangs are supposed to return to their tosser. But sometimes they don't.
On that Sunday one sailed out and kept sailing till it landed in that tall tree.
"Oh well. Let's leave it," one teen said.
"We can't get it out," agreed the other.
"What could we use?" I said, turning to Doug.
"What do we have?" he said, looking at me.
The small boy who had been sitting under the tree began tossing his soccer ball into the air.
The boomerang smiled from above.
Opening my backpack, I pulled out a water bottle.
"Let's leave it," the first teen repeated.
"We need rope," said Doug, walking to the nearby railroad roundhouse tool area to borrow some.
Waiting mom tossed her water bottle into the air.
Doug returned with rope.
Using his knot knowledge, he tied the rope to the water bottle strap,
No longer beneath the tree, the small boy and his family watched my family while the dad kicked the soccer ball to his child who received it and tossed it into the air.
My teen who'd said, "Leave it," tossed the roped-water bottle into the air too. The bottle missed the tree.
My other teen moved closer. "Throw it straight up."
"Leave it kid" threw again, this time knocking the boomerang down a branch.
"Throw higher," my other teen instructed.
Another toss nudged the boomerang lower.
A third scooted it further down.
About five tosses later, the boomerang sailed back and "Leave it kid" caught it.
Me, I philosophized.
What did we learn today? Did we teach something to our kids? What did the small boy learn? What about his parents? What would have happened if my family had left the boomerang stuck in the tree?
Were the responses generational? I wondered why Doug and I turned first to problem solving. It never occurred to me to leave the boomerang in the tree. I wondered why at first our kids wanted only to walk away. I noticed that when we stayed, eventually our kids (and maybe that small boy) caught on.
Sometime ago Doug and I, from our parents perhaps, learned to stick with finding a solution. On Sunday American ingenuity became the mother (and father) of invention.
I think today we showed our kids they could stay,  dig in their backpacks, borrow things from others, try, and not give up.
I don't think there was a right way to solve that stuck boomerang situation. Leaving was an option and could have taught the kids that sometimes it's good to cut your losses and walk away.
But I'll admit I'm happy we stayed, and that because we did, the boomerang (and it doesn't always) came back.
Any boomerang-stick-to-it-don't-walk-away-until-you-try-learning happening in your life? Send me a story. I'll write one back.