I am thrilled to announce release of children's author Alina Sayre's third novel, The Iluminator Rising, Book 3 of The Voyages of the Legend on June 10. To celebrate, Alina begins today a book tour with the first stop at jenncastro.com   Along the tour Alina will provide reviews, interviews, guest posts, and commentary on other notable authors. There's also a radio interview! At the end of the tour there will be e-book giveaways of The Illuminator Rising Book 3 (See Rules at Bottom).
Come join Alina and her author circle. You won't want to miss a single day!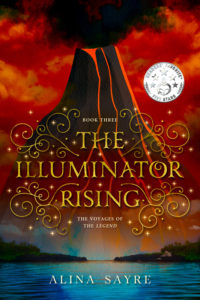 Advance praise for The Illuminator Rising, Book 3 of The Voyages of the Legend:  "…a thrilling read…[Sayre] has a flair for being able to capture the interest of a reader and hold onto it."
-Readers' Favorite, 5-star review
Synopsis:  Driven from their home island of Rhynlyr, Ellie and her friends must solve a riddle to find the survivors of the Vestigia Roi. But instead of a safe haven, they discover a hopeless band of refugees paralyzed by fear. Strengthened by new allies and new gifts, the crew of the Legend faces dangers like never before. Can they escape being shot out of the sky, falling over the Edge of the world, or being engulfed by urken armies long enough to rally the Vestigia Roi? And can they rekindle a fire from the ashes of the One Kingdom before Draaken takes over the world?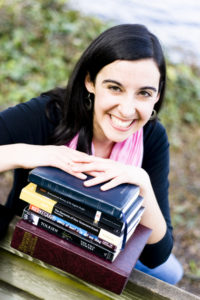 Author bio:  Alina Sayre began her literary career chewing on board books and has been in love with words ever since. Now she gets to work with them every day as an author, educator, editor, and speaker. Her first novel,
The Illuminator's Gift, won a silver medal in the Moonbeam Children's Book Awards, and all three books in The Voyages of the Legend series have received 5-star reviews from Readers' Favorite. When she's not writing, Alina enjoys hiking, crazy socks, and reading under blankets. She does not enjoy algebra or wasabi. When she grows up, she would like to live in a castle with a large library.
Blog Tour Schedule:
June 8: Jenn Castro (jenncastro.com)- Book 3 announcement with synopsis and cover, e-book giveaway
June 9: Margaret Bloom (webloomhere.blogspot.com)-Book 1 review, Book 3 announcement with synopsis and cover, giveaway
June 10: Publication day!!! Announcement on alinasayre.com
June 11: Angela Wallace (angelawallace.wordpress.com)-guest post
June 12: W.R. Gingell (wrgingell.com)-guest post
June 13: Rabia Gale (rabiagale.com/blog)-Book 1 review, Book 3 announcement with synopsis and cover
June 14: A.R. Silverberry (arsilverberry.com/blog)-guest post
June 15: D.M. Stoddard (kingdomoftorrence.com/my-blog) – guest post and giveaway– requested e-book give away
June 16: Intisar Khanani (booksbyintisar.com/blog)-interview
June 18: Caleb Fong (geekosupremo.wordpress.com)-radio interview
RULES for e-book giveaway: 1) Subscribe to the jenncastro.com webpage (including email) and 2) add the following on the jenncastro.com website: your name and a comment on a post on the jenncastro.com website.  If you have read one of Alina's books, a comment about that book at alinasayre.com would be appreciated. The winner will be randomly selected and checked against the jenncastro.com subscribers list. Good luck.