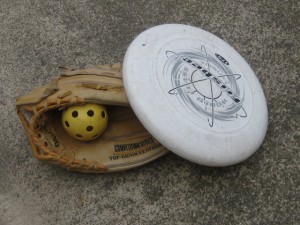 A coach once asked, "Describe games you enjoy." Playing catch topped the list. Why?
It's the smack in the glove;
The successful clasp of the disc between the fingers;
The rush of the fast push of the playground ball into both hands;
The happy, he chose me to throw to;
The connection of one to another across an arch of gravity;
The smile when your partner leaps and catches the near miss.
"I'm sorry," you casually mumble when the Frisbee veers up and back in an embarrassingly unintentional curve.
"Oops, he confesses when the thrown ball meant to move one direction and landed in the weeds instead.
But catch is not all fun and games.
I have noticed it takes courage to play. At the beginning the game is orderly. The first throws to the right. Then that receiver tosses to her right and so on around the circle.
Then in one unplanned moment, there comes a curve. The player with the ball, switches the pattern and throws across the circle. Standing seemingly alone in my small group of family or friends, there's a game change. Perched there, half wanting to make eye contact to say, "Yes, I'm free to catch," the other eye says, "Don't seem too eager to receive." Holding back I look away aloofly so I don't convey, "I'm waiting," or "I hope you'll throw one this way." or worse to not care too much when left out two times around the circle.
Growing up, every year some in my family made a pilgrimage to the vacation home. Leaving the city house, my dad packed a Frisbee and ball in the car. Once we'd moved into our new place, dad got the toys and we'd play catch in the driveway or street.
I loved the tricks. My dad staring me down while throwing to my sister. Thinking the ball was for me, I'd reach to receive while my sister was thrown for a surprise. Fast balls, quick ones, high tosses, over the head, under the legs to me, to me to me.
In those moments, I am caught and nothing beats being part of the game. Included. Participating. When someone throws a ball or a Frisbee, all is good. And when the ball smacks into your hand or lands firmly in your fist, all is right.
Here's a few questions: What do you enjoy? If it's catch, are you throwing or receiving? Chosen? Participating? When in the game, all is good.