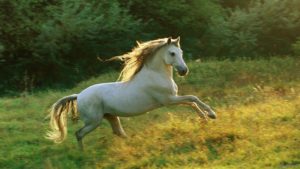 "If wishes were horses, beggars would ride." I asked one of my kids what that means and he said, "If everyone got what they wanted, even the poorest wouldn't have any problems."
His answer made me wonder Am I poor and is that why I wish? More importantly, is my country poor, are we all beggars, and is that why we beggars don't ride?
Cause sometimes I feel like a beggar, or that small child in Oliver Twist bravely asking, "Please sir (and I do sadly mean sir and not happily mean Ma am), could we have some more?"
And I know that some of us are poor, but I am not, and my country isn't either. But as April 15 (April 18), our tax deadline day approaches, it seems some of our so-called leaders are poor and not just in money, but in respect, logic, and imagination.
So, if I am a beggar, here's what I wish:
That the National Endowment for the Arts was as important as our so-called president's 13 golfing trips to his resort in Florida.
That the men chosen to work at our Environmental Protection Agency would actually protect our environment rather than justify why a government agency should "deregulate" mines and allow owners of these companies to dump wastewater into our rivers.
That the men chosen to head our Environmental Protection Agency, would fund systems to stop climate change: a national recycling, solar, and wind power agency; connect to the Department of Transportation to create national, state, and local electric public transportation that's convenient, inexpensive, and reliable; connect to the Department of Agriculture to educate our citizens about the benefits of eating grains, legumes, beans over meat.
That our Department of Education, could actually educate all our kids, use its power to teach our youth in all the of the ways we already know work: free and inexpensive college tuition, retraining programs in vocational schools, high expectations, interesting literary discussions, hands on learning, field trips, internships. Imagine what our country could be.
That our national defense agency could try, how 'bout for one year, to actually be a defense agency, rather than the national offense agency that it's become. We could charge our brigades to wage peace.
National Tax Day is April 15 (April 18). It's that one-day each year when all Americans have to do the same thing — well, all but the top one percent and our so-called president — pay taxes. And yet, like a beggar, my wishes are not horses and so I won't get to ride. Instead, my money and the money of 300 million or so Americans will fall into a big piechart and get used to pay for golf trips, wastewater polluters, educational mayhem, and military posturing and fights.
If wishes were horses beggars would ride, and wishing I had a say, I realized I do. Wanna join me and include in your tax payment envelope next Saturday a message that says, "This money is for my country to fund an art-filled and musically inspired citizenry, a healthy environment, and an educated and peaceful nation."
That message might stave me for another week while I muster the effort to climb back onto the letter-writing, sign-making/marching, phone-calling resistance wagon. Wanna join me?