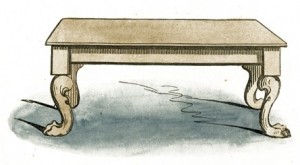 The oddity I feel when a transgender friend shows up at our house dressed to the nines including earrings, stockings, breasts, and perfume. We exchange hellos while I, crouched under a desk, vacuum cobwebs housed for years under a former craft table.
Splotched with paint at the front of the desk, I aim to flip it so the paint spats are at the back and the new owner will have a clean space to work. But it's not easy, because the desk has only a small square space to turn in. So, dressed in a black skirt and pretty blouse, our transgender friend, skirts female self for a moment and steps into manhood to help me lift the desk up over the other desk so the craft table can spin in a circle.
As we turn the table together, I, dressed in the same blue jeans and crumpled t-shirt left last night un-hangered on the floor, transform into my female self. Without missing a beat, I let my friend direct the furniture move. My friend lifts the work table, spins it, while describing the physics. Me? I lift a little, but mostly caution against not knocking a protruding Egyptian sculpture and a shadow box full of painted metal figures off the wall.
Strange how we fluidly we can change roles.