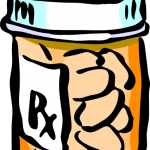 Long ago, a friend of my moms left a bottle of medicine at our house. I saw it on the kitchen table and didn't tell her. When her friend arrived home, she called my mom to see if her medicine was there.
"I knew she left the medicine," I told my mom.
"Why didn't you tell her?" she scolded. "That wasn't very thoughtful."
Though I couldn't explain it to her, I had a reason.
I was working on becoming what my then 10-year-old self called, "A non caring person," a person who didn't take care of everyone, a person who didn't notice when others forgot their things. I was tired of noticing other's oversights.
Toni, a girl in my fifth grade class could absent-mindedly drop her pencil while she raced down the stairs and it was I who picked it up. Scampering after her, I'd hold out the pencil, saying, "Here Toni, your pencil." My fifth-grade mind thought remembering her pencil might create a bond between she and I. Maybe we could be friends. Sadly, retrieving the falling yellow stick yielded nothing, barely a glance let alone a thank you.
With my mom's friend, I didn't intend to be unthoughtful, instead, my 10-year-old self, was trying to be less attentive to others. I wanted to "not care" thinking if I didn't, maybe others would find my things. I wanted to be carefree. Perhaps I wanted to attend to myself.
On a recent morning many years later, I am in the stall at the park and notice hanging heavy on the door a white canvass bag. Peaking inside I find a phone and other purse things. Someone has left it.
When the bathroom door opens, I know it's the owner of the bag. But she is silent. She does not say, "Hey do you see a bag on the door hook?" Does she not know she left a bag in here? I wonder. I step outside. A woman stands tentatively at her idling car, which is live-parked at the curb. A man waits in the driver seat.
"Did you leave something in the disabled bathroom stall," I call to to the lady. She nods, still tentative. She walks slowly, but does not speak.
"Is it a canvass bag?" I ask?
"With red straps?" she finishes.
"Yes," I say. As she plods to the door, it's clear she needs help. I ask, "Would you like me to get it for you?"
She nods again, staring at me. I fetch the bag and hand it to her.
After all these years, I still notice things. But as an adult, I enjoy noticing. That morning I made a connection with the woman who left her bag. Entering the flow of that stranger's world for one minute, I am in synch with her. Noticing her we connect, and I help.
The woman walks to the car. The driver, likely the caretaker, and I make eye contact. He gives me a thumbs up. As her caretaker, it must be a relief for him to have a bit of help for that one moment. He notices too!
Paying attention is good; it creates an opportunity to connect to another person.
Anything you can notice today? Maybe you, like me will find an opportunity to help and connect with someone.
Attribution for bottle image: <a href="http://cliparts.co/clipart/2332183″ title="Image from cliparts.co"><img src="http://cliparts.co/cliparts/pio/Agk/pioAgkRBT.png" width="350″ alt="Medicine Bottle clip art – vector clip art online, royalty free …" /></a>