Long ago in a time I can barely remember, I ate lunch at a place in Hartford, Connecticut called the Arch Street Tavern. In my just-twenties, looking for a restaurant on a work lunch hour, I found this cafe. On the menu was a spinach salad with roasted red peppers, blue cheese, and toasted almonds.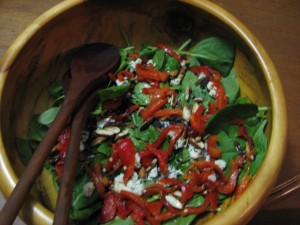 I think they tossed it with bacon dressing. It was the only thing I ever ordered there. Recently while "gathering" at a local market, red peppers catch my attention, and I remember this lunch experience. Inspired by the memory, I recreate the salad, sans bacon dressing. Gorgonzola cheese replaces the blue.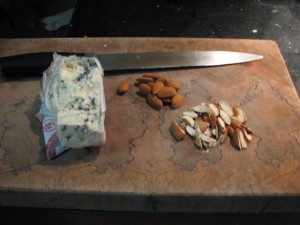 Ingredients:
Two roasted red peppers
Twenty almonds, sliced, and lightly roasted
Three cups fresh spinach
¼ cup crumbled gorgonzola cheese
Directions:
Roasting Red Peppers –. Place red peppers on a cookie sheet. Use top oven rack; put tray of peppers under broiler until lightly blackened on all sides. Turn frequently.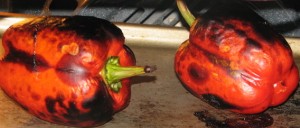 Remove from oven. Put in bowl and cover tightly with plastic. I repurposed a produce bag and pulled it tight across the bowl. Leave about 15 minutes. Cut peppers in half; remove innards, seeds, and stem and peel. Slice lengthwise into 1/8-inch pieces, cut these pieces into thirds. Set aside. (Or buy a jar of roasted peppers and slice.)
Almonds – Slice  lengthwise into about four pieces each. Put in dry frying pan. Turn pan on high and shake until almonds are an even brown.  They will smell good. (You could also buy pre-sliced almonds and roast.) 
Spinach – Place in salad bowl.
Cheese – Crumble onto spinach.
Toss in almonds and half the peppers. Use the other half for sandwiches or another salad the second night!
Gently toss all ingredients together. No dressing needed. Yum