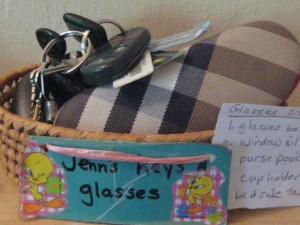 A friend remarks that some people need to keep a bit of anxiety in their life, "The brain searches for equilibrium to stay comfortable." How true.
Diagnosed years ago with nearsightedness, it's taken just as many to learn how to keep track of my glasses. How can that be? Why not put them in the same place each time I remove them?
That's what I tell my kids to do with their shoes, and they do. That's what my husband does with his glasses, and he's worn them only two years.
Following my partner's advise, I designate a container and spot on a shelf and label it "Jenn's Keys and Glasses". The system works — until I stop using it. More honestly I resist using it. Curiously, I convince myself that, when waking up, breakfasting at the kitchen table, leaving my car, walking into the house, If I put my glasses in a new place, I will remember. But I don't. Next I admit to the four other places I leave them and make a sign listing where to check.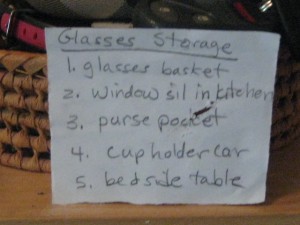 But the resister in me gets more creative. I leave them in new locations (by the cook book, on the shelf at the kitchen window, at the piano, and tell myself, "You'll remember." (I don't). Upping the anti, I scatter them in additional random spots: on the game closet shelf, near the gardening tools in the garage, atop the chicken coop door.
Sometimes I won't even check the five places labeled on the basket. My refrain becomes, "Anyone know where I left my glasses," and my sons' mantra becomes, "Check your list." The worst is when, they tell me what I tell them, "Think about the last place you put them." At least some know the system.
Last week I got serious about routine (http://jenncastro.com/2015/03/23/routine-questions/) and made a new commitment to keep track of my glasses. They have one place — In the basket.
But here's the thing, even though I am ready to allow orderliness into my glasses life, it is not easy. Removing them, I sense a tug to leave them wherever I am. Fighting the tug, and taking my husband's advice, "Always put them back. Leave the case in the basket and when you're done store them inside the case."
The relief I feel when I find them in their place, inside their case, is incredible. And if finding my glasses can calm me, what's next? My keys? See sign, I solved that years ago, most of the time.
Is it true that committing to a glasses basket is the sign of a sick mind (the clean desk story is next) and that our resistance to order makes us creative?
I think not.
I think it diverts our energy. Scatters it sideways.
What I wonder, is what to do with the newfound peacefulness?
How about you? Holding on to a little anxiety that keeps you a bit on the edge? Got any order you need to put into your life? How will you respond to the newfound energy?