Please welcome Alina Sayre, my guest blogger for today. Here's her post.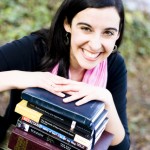 I've loved books since I was old enough to chew on them. I learned to read early and sometimes got in trouble for reading while doing chores or reading under the covers by flashlight. But not every kid has the love of reading so hard-wired into them. As an educator and middle-grades author, I've worked with some students who find reading prohibitively difficult, and others who just find it boring or pointless. But I believe that with guidance, encouragement, and strategy, any student can learn not just to read well, but to love reading. Here are ten tips I've found effective for baiting, hooking, and reeling even the most reluctant kids into a lifetime of passionate reading.
Start them a little below their reading level. A student may technically be capable of reading a 5th– or 6th-grade-level book, but if you want to get them to love reading, there's nothing like the experience of mastering a 3rd-grade-level book to encourage them to repeat the experience.
Find books on subjects that interest them. If your student can forget about the vehicle of words and get lost in a fascinating story, they're well on their way to passionate reading. I start a lot of my reluctant-reader students on Charlie and the Chocolate Factory by Roald Dahl because really, who wouldn't be interested in a lifetime supply of chocolate? Some other popular choices, especially for boys, include Holes by Louis Sachar, The Giver by Lois Lowry, and The Call of the Wild by Jack London.
Read aloud with them. Almost every kid loves being read to—even if their personal reading level is low. It gives you an opportunity to dramatize the story and help grow their imagination. It also offers auditory learners a leg up in content retention.
Bring books to life with firsthand experiences. C.S. Lewis's The Lion, the Witch, and the Wardrobe came to life in a whole new way when I bit into a piece of real Turkish Delight. One of my students took a trip to Europe, during which her highlight was seeing the real Baker Street of the fictional Sherlock Holmes. Try visiting the ruins of Jack London's Wolf House near Napa or making Laura Ingalls's maple syrup candy.
Let them see you reading. Recent research shows a correlation between a child's attitude toward reading and how much they see their parents reading. If you want to raise a passionate reader, be one.
Have books available in your home. Stock up your bookshelves and your Kindle library. If money is tight, check out a little red wagonload of books from the library. Research also shows a correlation between the number of books in a child's home and their attitudes toward reading.
Read books with movie adaptations. Read the book, then watch the movie. Discuss the similarities and differences. This works especially well for visual and auditory learners, who process the sense stimulation of movies differently than they do books.
Remember that all reading is reading. While comic books may not be your ultimate goal for your student, they can be tools for growing language skills and sparking interest in reading (see tip #2). Imagination is a muscle that must be developed, so there's no shame in starting small.
Try audiobooks. Auditory learners and kids with learning challenges such as ADHD or dyslexia may fall in love with a story once the bothersome impediment of the visual page is removed. (For more resources specifically for dyslexia, check out https://www.learningally.org/). Audiobooks are just different vehicles for communicating the same stories.
Take your student to see a real live writer. Author events abound at libraries, bookstores, and schools. (I'll be a guest at Village House of Books in Los Gatos on 12/13! http://villagehouseofbooks.com/) Meeting the person behind a book can inspire a student to dive into reading—or maybe even to try making up their own stories.
About Alina:
Alina Sayre is a Bay Area author and educator who began her literary career chewing on board books and has been in love with words ever since. Her fantasy series, The Voyages of the Legend, helps kids ages 9-14 (and sometimes their parents) get excited about reading! Book 1, The Illuminator's Gift, was a silver medalist in the 2014 Moonbeam Children's Book Awards and has been a guest at a number of schools and literacy events. On December 1 it was joined by Book 2, The Illuminator's Test, now available on Amazon.com. To invite Alina to speak at your school, homeschool group, or literary event, please visit her website: www.alinasayre.com. When she's not writing, Alina enjoys photography, collecting crazy socks, and reading under blankets.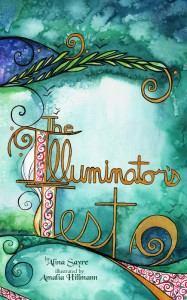 Let's connect!
Website: www.alinasayre.com
Facebook: www.facebook.com/alinasayreauthor
Twitter: https://twitter.com/AlinaSayre
E-mail: alinasayreauthor@gmail.com
Amazon: http://www.amazon.com/Illuminators-Test-Voyages-Legend-Book-ebook/dp/B00QDDOA18/