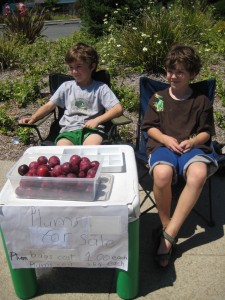 When I see a kid selling lemonade on the corner, I stop and buy a cup. If they're like me, when I was 10, it will make their day. When I witness the happiness evident by the swing in their arm pouring my kids and me a glassful, while happily accepting my $1.50 cents, it makes my day too. Let's adjust the slogan, "Drive like your kids live here," to "Support your small local business like your kids are selling."
Maybe you remember your small business ventures as a child? I do. Laughing now, I am shopping at Gristedes Market in New York City. My sisters and I would buy apples along with lemons and quarter them. We set up our market next door to the Guggenheim Museum. If location, location, location rings true, we had it, because the museum was around the corner from our apartment on 4 East 89th Street.
But apples? What were we thinking? How did we keep the sections from turning brown while waiting for customers, which In my mind's eye, created while standing in line at Gristedes, imagined hoards of crowds lining up for our lemonade and fruit stand.
Alas, I think we may have had one or two customers, likely a mom or office worker buying a cupful because they felt sorry for us. Usually those afternoons turned into roller skating and scraping together some odd cents for the least expensive Good Humor bar. How come he captured all the business? He had a name brand.
In Lawn Boy, by Gary Paulsen, a twelve-year old boy, lands a lawn care business while practically falling off a log. When a neighbor joins his enterprise and encourages him and explains how to expand, he quickly becomes successful. In real life, starting a business usually is not that easy, but supporting and encouraging our kids now may pave the way for a lucrative future. If nothing else, believing in them will give them the confidence to try.
So as you drive around town this spring and summer, support your local lemonade (or plum) stand and consider this:  What other small kid (and adult) businesses can you support? Maybe shopping local at a kid's small venture will lead to their starting a business as an adult. Have any thoughts or memories about your small businesses? Share a story or two!