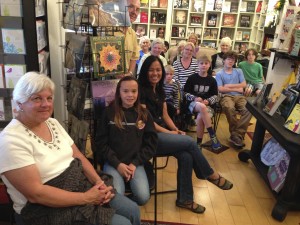 MOM ME found a village at Village House of Books on April 24, when I returned to the Los Gatos bookstore for a debut reading of Thought Full, on jenncastro.com. Thought Full is a series of blogs about parenting, homeschooling, chickens, underground pests, stop signs, and other daily encounters.
Shared posts about mom courage, cooking quandaries, and time management. Also read MOM ME and answered questions about writing and reaching personal goals. Enjoyed talking with friends, kids, and friends of friends, from many of my walks of life. Thank you for coming!
My next author event is 11:30 a.m. to 2:30 p.m., Saturday, May 3, also at Village House of Books, 326 Village Lane, Los Gatos where more than 13 fellow authors will be visiting for conversation, Q&A, and book signing. Come say hi!