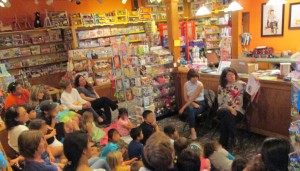 Batman, baseball players, princesses, and bedtime stuffies were among the 33 kids and adults who last night, laughed and giggled at silly stories, listened and learned about how to make short paper books, and munched on cookies and drank milk at the Wooden Horse Toy Store  monthly pajama party (796 Blossom Hill Road, Los Gatos).
Homeschool mom Jenn Castro read MOM ME, her children's picture book and Alum Rock School Teacher Carolyn Bowman read Mommies Are For Catching Fireflies, Harriet Ziefert.
Asked to share what their mommies do for them, one girl grinned and said, "My mommy does everything for me"
That made moms smile.
"My mommy goes to work to make money so she can buy things for me," said another. That made adults laugh.
"My mommy plays hide and go seek with me," offered a little boy. That made moms smile knowingly.
"My mommy brings my lunch to my school every day," shared another child who has an allergy and eats a special diet. That made moms smile too.
Before the evening ended, 33 kids and parents also learned about Screen-Free Week – May 5 – 11 , and a make your own book kit.
Now it's time for this mom to find a pillow and get some rest.