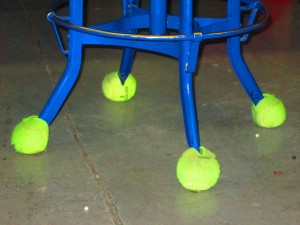 All old objects are useful at Rock-it Science even tattered tennis balls that are cut open and mashed onto the bottom of chairs so they can slide easily across the floor. Who needs furniture pads?
Rock-it Science is staple science for kids in Silicon Valley, and for our family too. Kids meet weekly, hear a silly story and then investigate a fun and,  in my son's words, dangerous experiment.
No minutes are wasted at Rock-it Science either. Arrive early and you'll hear the seemingly unplanned part of class.
John McChesney, Mr. Mac, founder and teacher at Rock-it Science, who at the end of class tells kids to "wander wherever you wander" begs this writer to wonder if Mr. Mac wanders around his own classroom until he lands on a seemingly spontaneous story.
Consider connect sticks.
The story goes that college kids were trying to figure out how to make a circle with straight lines. Turns out that's how connect sticks were invented. Connect Sticks are those plastic rods that when linked together form spheres that can be contracted and expanded into spiky and hollow balls.
Mr. Mac's invention story made me wonder (not wander) about what other lessons young kids learn when they hear about college students who invent circles from straight sticks and from a teacher who re-invents many things including furniture pads manufactured out of old tennis balls.
That everyone can invent.
That every idea begins with a vision, even if it's not yet defined.
That straight lines can be shaped into circles.
What else?
What do Rock-it Science and other open-ended science class graduates invent? Are they sitting at university tables pondering shapes and straight lines and then churning them into something no one thought was possible? Rock-it Science and Mr. Mac's stories are a precursor to youthful inventing.
Click below to read about Zome, a word invented in 1968 by Steve Durkee. Learn about a toy inventor whose ideas began while studying math in Switzerland. In graduate school there, he explored the possibilities of building structures using polyhedron shapes rather than rectangles.
http://en.wikipedia.org/wiki/Zome
Got an invention to pass along? Share your link at jenncastro.com