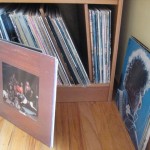 Recycled gifts – When I was a child, my family gave "recycled gifts". Recycled gifts are different from the current re-gifting practice of, just before leaving for a holiday party, rewrapping and relabeling a fruitcake, or just received bottle of wine or box of chocolate.
In my family, recycled gift-giving involved two things; searching for things we no longer wanted or needed and matching those to what another member might like or need. The most generous I received, was my parents' stereo. It had four parts — the speaker cabinets and receiver were contained in real teak and the turntable, yes turntable, had a glass top. I was about 20, and it was the first stereo I'd owned. And so, speaking of turntables, here's how I rediscovered places and things.
Leaning inside an also teak wooden box in my living room are some 100 records. Rubber Soul, Harvest, Blood on the Tracks, (confession) Laura Brainpan's Gloria, and measures and melodies from jazz of long ago, Ralph Towner, Herbie Hancock, Jean-Luc Ponty name some. This music is cheap low carbon transportation to a favorite place to visit with family and friends – my living room.
Listening to records requires intention. A spinning disk lasts a scant 20 minutes per side, so, it's more convenient if you sit — in the living room. For me, living rooms are like backyards, I like the idea of going there, but can't always find the path.
And so, instead of shopping for new things this holiday season, I rediscovered some old ones, and old places too. Anything new you want to rediscover this year?