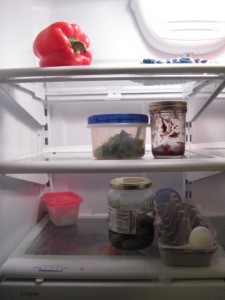 Sometimes I wonder, in this supposed season of wonder, if my family would notice if I served them pancakes for dinner every night during the next three weeks. Something tells me my kids would be thrilled, especially if I used white flour.
The reason I wonder is, for nearly six months, meal ideas are unbelievably bereft. The refrigerator is empty too. If you took a peak (now you can) about all you'd find is a jar of pickles, a dozen egg box with only one left, half a bottle of milk, a dehydrated bunch of parsley, one-quarter bowl of left over cranberry sauce, various jars of several-year-old containers of jams, jellies, and mustards, an almost empty tube of wasabi, and an empty butter dish.
In the bread drawer are several empty bags (reminds me of the butter dish) with only the heal remaining.
But the bean drawer is, well, full of beans, and millet, and barley, and a bunch of other grains that, while on a vegan jag in June, and in a bit of inspiration while standing in the bulk food isle, I bought and, for a time soaked and cooked regularly, and now I am sick of beans.
Up until this summer, right around the time of the vegan vacation, for years, I cooked chickens (the indoor kind) two or so times a week and had a regular supply of broth and makings for stews and sauces. We'd eat something different every night. I'd pour over cookbooks (sometimes literally) looking for interesting recipes, and then cook them, enjoying nearly every minute of the creativity.
Of late, (and probably only me cause I don't think my family notices) I am amazed when I can still put something on the table, cause inside I'm wondering if it will actually happen.
Food is an issue for many people these days. Most of my mom friends share they too live in a desert for ideas. And speaking of that, is it our job to create meal after meal that's interesting? No! So onward to pancakes, and no I'm not going to puree and then add spinach and kale so the kids will get "their" vegetables. Because then I won't get the meal prep reprieve I'm craving.
Here are three questions:  Any place in your life where there are no more ideas? Oh and what's for dinner? Could we join you?