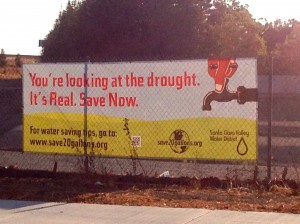 A poster pasted to a fence near a used-to-be pond on Highway 85 at Almaden Expressway in San jose, California says,
"You're looking at the drought. It's Real. Save Now."
Judging from the hand turning off a no longer gushing faucet, water flowing out of homeowners' taps are the greatest drought causing problem.
Recently, I received a Public Notice from the San Jose Water Company.
Don't wash your car without a shut-off nozzle.
Don't let "runoff" water run onto roadways, parking lots, etc.
Don't clean your driveway or sidewalk with drinking water
Don't use drinking water in an outdoor water fountain.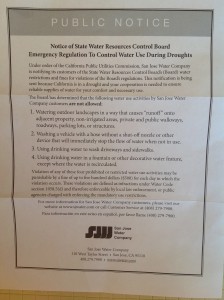 "Violations of any of these four prohibited or restricted water use activities may be punishable by a fine of up to five hundred dollars for each day."
These residential water uses comprise only 5 percent of total water use. Fifty-five percent of the water used in the U.S. is for animal agriculture. See http://cowspiracy.com/fact-check/#.VBThmxR2JbI.facebook
In our family we turn off water between teeth brushing, take short showers, and water the garden in the early morning or late afternoon, among many water-saving measures. Occasionally I even lug pasta refuse water outside to hydrate potted parsley.
According to Cowspiracy, (http://cowspiracy.com) the new documentary dispelling the disconnection between what we think is the greatest water use and what is actually the problem, producing one pound of beef takes 2500 gallons of water. One pound of beef. That water use is, well, hard to swallow. Makes my bucket of pasta water look well, like a drop in the bucket.
Cowspiracy found we could take shorter showers for 2 months before we used the amount of water needed to produce one pound of hamburger.  If my one family stops eating hamburgers once a week for one month, we would save 10,000 gallons of water in one 30-day period.
Curious about how much water one family actually uses in a month, I looked up a bill from our heaviest watering time, July and August. During these 57 days, my family used 262 gallons per day or 14,934 gallons. That water use is equivalent to 6 pounds of hamburger meat.
So, here's a few questions:
is the faucet the right image for the poster?
Is that Public Notice sent to all water consumers?
Does the water company post on ranch owner's fences images of cows consuming corn, grass, and soy telling them, "This is what drought looks like" forcing them to take measures to save water? Does it fine ranchers for not properly or efficiently using our precious natural resource – water? Again, Cowspiracy, "Growing feed crops for livestock consumes 56 percent of water in the U.S."
While I'm not suggesting every Californian become a vegan, I do think it's time to rethink the family dinner menu. To that end, I've pulled out once again, Forks Over Knives, a documentary and cookbook that makes compelling health arguments for eating plant-based meals. (http://www.amazon.com/Forks-Over-Knives-Cookbook-Plant-Based/dp/1615190619/ref=sr_1_3?ie=UTF8&qid=1410898733&sr=8-3&keywords=forks+over+knives)
Don't worry, we won't start letting the water run wild while we brush our teeth, take showers, and water the garden. And I won't hound you to stop eating meat. But we can do more.
To start let's learn the facts about water use. Got words you can share about water? Please tell us. There's a lot we can do. We just need to do it.